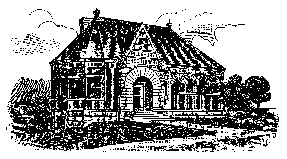 Origins of the Pillsbury Free Library
Prior to the Pillsbury Free Library, Warner had no tax-supported library for people of all ages and classes. In 1841 there was a fee-supported "Farmers' and Mechanics' Library", and later, there was a small library of about 450 volumes at the Simonds' Free High School. For a detailed history of early libraries in Warner, see "19th Century Libraries of Warner New Hampshire",
by Larry Sullivan.
In 1890, George Alfred Pillsbury, (of flour and baking fame) having accumulated enough money at the age of 75 to "meet all forseeable needs" for the rest of his wife's and his own lives, decided to do something beneficial for the Town of Warner, where he had lived from 1840 to 1852.
So at Town Meeting on March 11, 1890, Mr. Pillsbury "offered to erect and present to the town of Warner a library building to cost about ten thousand dollars, for the free use of the citizens of Warner, forever, UPON CONDITION THAT said town accepts of said library building and library therein AND provide for its care and support therefore."
Funding
The town voted unanimously by voice vote to accept the building and to appropriate annually, forever, one fifteenth of one percent of the assessed valuation of the town, for the care of the library and its building.
The site
The slate-roofed, brick and granite building was built on a site donated by Nehemiah George Ordway, a native of Warner who had gone west and become Governor of the Dakota Territory. The site was the location of the Kearsarge Hotel which had burned and was considered not worth rebuilding because all the shade trees had burned also.
At the dedication ceremonies on October 2, 1891, George Pillsbury said in his speech it was his wish that "All the people of Warner, young and old, rich and poor alike, may realize therefrom all the benefits that a free public library can give."
Changes in Services
The Library opened in 1892 with about 4500 volumes, for the use of adults only.
An addition was completed in 1994, tripling the area of the building. The Library now contains over 25,000 books, music, videos, newspapers and magazines. There is a very active children's room, a meeting room, computer-assisted book search service, and computers (and wi-fi) for public use.
The Library's Opening Day, Feb. 6, 1892
Table of contents for "19th century Libraries of Warner, New Hampshire" by Larry Sullivan
---